IT FLIES USA 2022 held at The School of Engineering, The University of Dayton, Ohio
This years event was dominated by strong teams from The University of Dayton, and Mississippi State University.
The overall winners were a team from UD, Andrew Killian, Luke Duncan and Mauricio Hernandez with their hybrid wing body aerial firefighter, designed to fill the gap between the larger firefighters on the market and the massive 747 Supertanker. Their design (aptly named Pelican) is capable of carrying 16000 gallons of water. The team will receive $800 from Merlin Flight Simulation Group.
Second was MSU with 'Skywalker', their twin engine turboprop executive aircraft designed by Dillon Williams, Nick Areng, Cole Dickerson, Cameron Jackson, Claire King, Joel Sheffield, Alex Ward, Jesse Watkins and Dillon Williams.
The winners of the prize for the best project presentation were Colin Fletcher and Andrew Killian from UD with their mid-sized twin engine airliner akin to the Boeing 757 or an Airbus A321.
Second in this section were the MSU team of Devin Foeller, Elijah Caudill, Caleb Bailey, J.T. Tripp, Jared Jasper, Lee Soorikian, Sean Auer and Walter Cruz, who designed an advanced tactical airlift capable of carrying at least 70,000 lbs.., one M1127 Stryker or one S-97 Raider.
IT FLIES is an amazing opportunity for the students to ask questions related to their design and have their aircraft 'flown' and assessed by test pilots. Flying took place in the spacious simulation laboratory at The University of Dayton, and this year we had three test pilots to assess the designs led by Gary Konnert - all are members of the SETP.
The presentation section had four flight test engineers as judges, led by Troy Hoeger.
Again we were sponsored by The Aviation Historian magazine, and copies of this super publication will be sent to the flight simulation labs. at UD and MSU - always good for the students to read what has and has not worked well in the past!
Our many thanks to the team at The University of Dayton and to all the judges for their time and expertise.
Archive of winners
Click on the links below for previous competition winners..
2020 - No competition due to the Pandemic.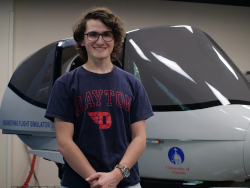 Andrew Killian - Leader of the winning University of Dayton team