IT FLIES WINGLETS
Are you interested in engineering?
This competition is designed for school children of 10 years and under - the current one is the new Martian spaceship design!
The launch version of IT FLIES WINGLETS was held at The Royal Aeronautical Society, London, as part of their Cool Aeronautics Day on 2 December 2011.
Teams from two London primary schools were asked to design a new spaceship for the Martian family, taking into consideration all the points on the Mission Statement.
The winners, pictured, will be going to have a flight on the MP521 Engineering Flight Simulator at Brunel University in January 2012.
IT FLIES WINGLETS rules for 2011 - Download (PDF format)
Prizewinner Zain Ameen and his father had a special trip to Brunel University to check out the engineering flight simulator there.
Receiving instructions from Brunel's Chief Simulator Technician, and Merlin's MD, Chris Neal, Zain had a brilliant morning flying the simulator. Lets hope that the experience fuels Zain's interest in design and engineering for the future!
Many thanks to Brunel University for this prize.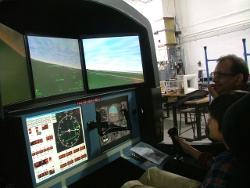 Zain trying out the engineering flight simulator at Brunel University, West London.
Cool Aeronautics workshop
120 children took up the challenge to design a new space rocket for the Martian family at the Cool Aeronautics workshop held at The Royal Aeronautical Society in London on 4th December. See IT FLIES WINGLETS for more information.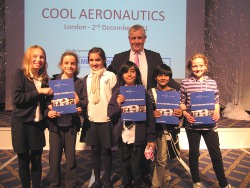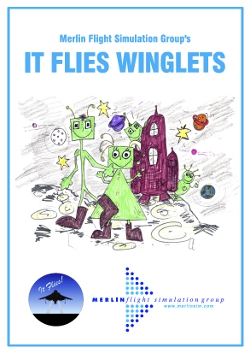 Download poster (PDF format)