Aircraft Design and Handling Competition - USA - 2012 - Results
Swansea student flies in to take top prize at Dayton!
IT FLIES USA 2012 was held at The University of Dayton, Ohio on 23 April.
Swansea University, represented by Roberto Morujo entered their SEAM aircraft design, which had already won joint first with The University of Dayton at IT FLIES UK last June.
SEAM is a very light jet for 4 passengers, with forward control canard design, no horizontal tail stabilizer, and twin rudders mounted at the end of the wings. For propulsion there are two open-ducted turbo-fans.
Roberto took first prize, with Dayton students coming second, and Pennsylvania State University third.
The results are as follows:-
| | |
| --- | --- |
| First | Swansea University - very light jet |
| Second | The University of Dayton DC-3 |
| Third | Pennsylvania State - human powered aircraft |
Another Dayton team secured the presentation prize with their design of a C-5A Galaxy aircraft.
Testimonials:
"I feel that the IT FLIES competition is a excellent venue for teaching aircraft flight dynamics and aircraft design to young engineers. They can view first-hand the response of their aircraft in a virtual environment. And getting feedback from actual engineering test pilots is very invaluable to the students."
Calvin R. Walker
Sr. Flight Test Engineer
Raspet Flight Research Laboratory
Bagley College of Engineering
Mississippi State University
"It was a great opportunity to participate in the 2012 USA Aircraft Design and Handling Competition where professional pilots from the United States Air Force could check how the aircraft behaves under real flight conditions. After flying and assessing the different models, they gave us feedback as to how we could improve the aircraft. Staying on campus at The University of Dayton gave me time for other activities - I visited the huge Wright Patterson Air Force Museum, experienced American University lifestyle, visited their labs and attending class. I am very pleased in coming first in IT FLIES USA. However, it was a difficult challenge for me as I was representing the original design team of eight members."
Roberto Morujo, Swansea University team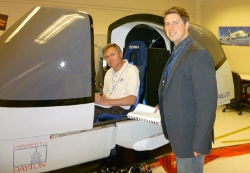 Roberto Morujo the winner from Swansea University with Lt. Col James Hanley, the test pilot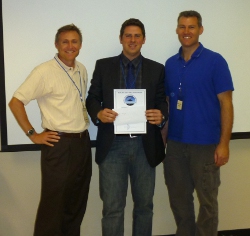 Roberto at the prize giving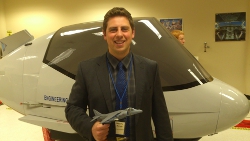 Roberto in front of simulator