IT FLIES USA 2015
The results of IT FLIES USA are as follows:-
First Prize
Matt Pulfer, University of Dayton with his General Aviation Twin Piston Prop Aircraft.
Second Prize
Vaz Gautam and Ben Lewis, The University of Manchester with their variable sweep supersonic transport aircraft
Third Prize
Alex Watt, The University of Dayton with his Light Sport Aircraft
A special thank you to the judges for this year, all from The Society of Experimental Test Pilots.
"The It Flies USA competition is an incredible opportunity that allows students to see their aircraft designs come to life. The Merlin flight simulator is a unique and unparalleled tool that aids in the creation of a polished final aircraft design. The competition is a good way to gain test pilot feedback on an aircraft design which without the simulator would be impossible. It is a rewarding experience when your aircraft is programmed into the simulator and you see it take flight for the first time. The competition also encourages constant refinement of the design which allows students to gain valuable knowledge of not only flight testing but evaluation of design sensitivities. Overall, the simulator and the competition create a type of learning environment that cannot be achieved in the classroom alone."
- Matt Pulfer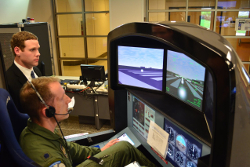 The winner, Matt Pulfer with the test pilot that assessed his design, David Glade.
News report - A news report on the competition.