IT FLIES US 2019 - Results
A close run competition this year with three teams sharing the first prize, therefore winning $300 each from Merlin Products Ltd.
The prize for the Best Project Presentation went to The University of Manchester, with UD second and USW third - this was sponsored by The Aviation Historian Magazine. Very fitting because several of the teams had used historic aircraft as benchmarks for their new concepts.
Our special thanks to all the staff at The University of Dayton who helped with the admin. Also a huge thank you to Gary, Frank, Ed and Brad for test flying the designs, and Len and Troy for judging the presentations.
Full results are as follows:-
First Prize:-
The University of Manchester, Nikita Dunaev and Soma Santa with their single engine lifting body general aviation aircraft,'The Galaxy'.
The University of South Wales, Ollie Banks with his four engine turboprop powered flying boat, 'Britannic'.
The University of Dayton, Andrew Killian, Ryan Simpkins with their WW1 era optimized fighter triplane.
Best Project Presentation:-
First:- The University of Manchester, Nikita Dunaev and Soma Santa
Second:- The University of Dayton, Jielong Cai (low cruise speed aeroplane for observation)
Third:- The University of South Wales, Ollie Banks
"Competing against teams from around the globe has been a learning experience unmatched by anything else in my education thus far. Seeing the approach taken by teams from the UK has given me a new and refreshing perspective on the aircraft design and testing process. Having the opportunity to meet and host teams from these countries and build relationships with students abroad has been a large part of the experience as well. The It Flies competition has left me with a lasting impression of the aircraft design environment and community that I will never forget. I am extremely grateful for Chris and Marion at Merlin for their generosity and support through this process."
-Michael M. (UD '19), Aerospace Engineering
Photography: Christian Cubacub
On Saturday, 6 April 2019, the Great Lakes Section of Society of Experimental Test Pilots supported a University of Dayton hosted IT FLIES aircraft design competition for students using their engineering flight simulator.
https://www.setp.org/great-lakes-section/it-flies-aircraft-design-competition-for-students.html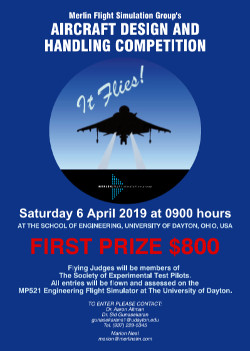 Download poster (PDF format)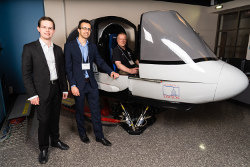 The Manchester University team with Gary Konnert their test pilot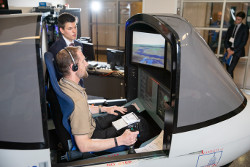 Ollie from The University of South Wales watching Frank Delsing fly his design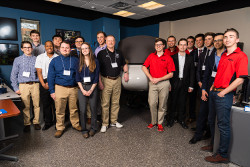 All teams with Gary Konnert in the University of Dayton simulation laboratory
Photography: Christian Cubacub