Mississippi State win 2013 competition
IT FLIES USA held at The University of Dayton on 13 April 2013 attracted nine entries, with designs ranging from an airship through to a Red Bull style racer, an amphibious light sport plane, and a human powered aircraft. The University of Manchester, Swansea University and The University of Leeds sent teams from the UK
Luckily we had five US test pilots to judge the entries!
The results are as follows:-
First:- Mississippi State University,Anthony Favoloro, Wesley Melton and Austin Powell, who designed a single engine turboprop aircraft with a 40 ft. wingspan - and highly aerobatic. The design satisfied the System Requirements Document for the Air Force Light Air Support Competition. The team from Mississippi won $1,000 in prize money and a year's free membership of the Royal Aeronautical Society.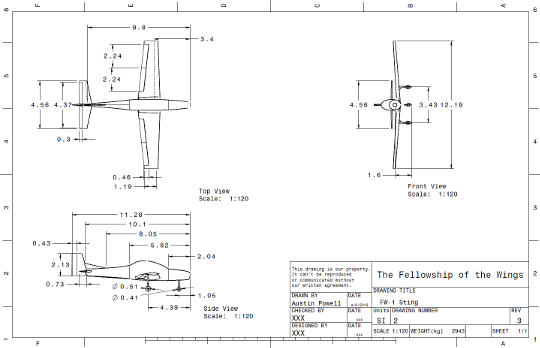 The winning design.
Second:- Manchester University, Ramy Mesalam, Abdullah Desai and Stuart Garthwaite with their design of a very lightweight aircraft made from composite materials. Purpose built for manoeuvrability, training for advanced and experienced pilots.
The team from Manchester won $300 and a year's free membership of the Royal Aeronautical Society.
Third:- The University of Dayton, Josh Nieman's light sport amphibious aircraft, a 2 seater plane that can take off and land from land and water.
Our grateful thanks to Dr. Aaron Altman, The University of Dayton for the use of their Flight Simulation Suite, and their fantastic support over the three days, to all the judges for their help and their time, and to the Engineering students of UD who enthusiastically welcomed all visiting teams!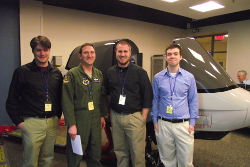 Winning team - Mississippi - with their test pilot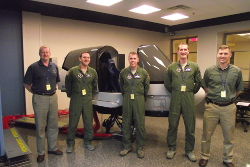 The team of test pilot judges for 2013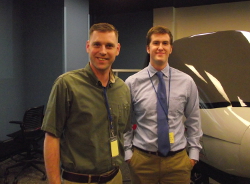 Josh Nieman with test pilot who flew his design