Team from The University of Manchester win IT FLIES UK!
A team of three students, Thomas Moissinac, Yufei Jin, and Anita Gea, who designed a blended wing body commercial aircraft, with a range of 20,000km. and cruising at 0.9 Mach at 44,000 feet, won a tightly fought competition.
This year, held at Swansea University's new Bay Campus, entries were at full capacity and of very high quality.
Second place tied went to Ollie Jones from Sheffield Hallam University with a replica of a Red Bull racer, and Cian Hanley and Matthew Hogg with their small to medium sized utility helicopter. Best Project Presentation Prize went to Rob Ives from Teesside University.
Dave Southwood, Chief Flying Judge said " By having experienced test pilots fly their aircraft models in the simulator at the IT FLIES competition, the students can be shown how the flying qualities of an aircraft are assessed for real, and how any deficiencies that are identified as a result in recommendations for improvements. The debrief given to the students by the test pilot at the end of the flying phase in the simulator gives them the opportunity to continue to refine their model to improve both its overall performance and its fidelity in representation of a real aircraft, thus mimicking a real world 'fly-fix-fly' process."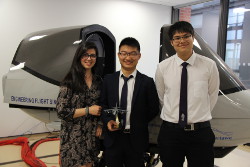 Winning Manchester students. Photo credit: Swansea University