Merlin launch new two seater simulator
Designed to meet with customer requirements, Merlin's latest simulator is the MP525 - a two seater simulator on an electric motion system. The MP525 has all the software attributes of the MP521 Engineering Flight Simulation (using Excalibur software), and may therefore be linked to 'fly' in the same airspace as Merlin's other products.
The MP525 is the perfect medium to show Merlin's new visual system.
Credit: Alan Newell, Lunds Design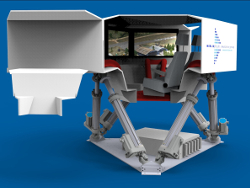 Credit: Alan Newell, Lunds Design