IT FLIES returned to The University of Manchester
Plenty of students, nine entries, and the result - a tie between Kristian Groot of the Amsterdam University of Applied Sciences and Clayton Humphreys-Jennings from The University of South Wales.
James Ellis from The University of Manchester won best Project Presentation and also the prize for The Most Innovative Aircraft Design with his next generation strike aircraft designed to replace the Harrier.
Brilliant to see so many students from different countries exchanging ideas.
With special thanks to our judges Dave Southwood and Gordon McClymont from ETPS, and Dr. David Philpott.
Also very many thanks to all our sponsors this year, The Royal Aeronautical Society's Flight Simulation Group, Antycip Simulation UK, IHS Markit, The Aviation Historian, and Pilot Magazine, who all gave prizes.
The official results are on the IT FLIES UK page.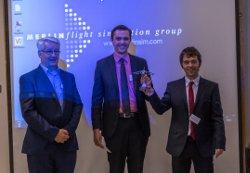 The winners with the Harrier Trophy