Airbus Test Pilot Test Flies Simulation of the Eco-Flyer Aircraft at Swansea University
Frank Chapman, Airbus Test Pilot, used the Merlin MP521 Engineering Flight Simulator at The College of Engineering at Swansea University to fly and assess the Eco-Flyer Electric Aircraft Design last week. The Simulation of Airbus's Eco-Flyer, a two seater, eco efficient light aircraft, was tested on Swansea's MP521 in order to further the development of the design. The Eco-Flyer is an Airbus graduate and apprentice project to design and manufacture a light two-seater general aviation aircraft.
The Airbus Team, led by Professor Norman Wood, with graduates Ellen Hindley, and Ross Field, were delighted with the aircraft's performance, and expect to do further testing of their design in the New Year.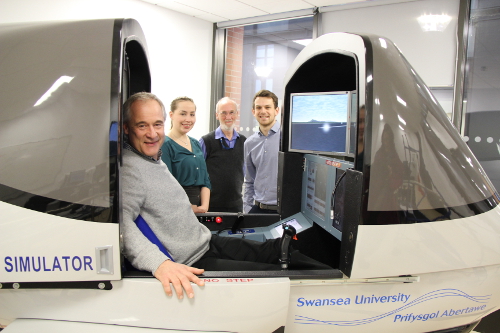 Photograph - Swansea University