Swansea University order new MP521 simulator
Swansea University has ordered a second motion based MP521 from Merlin Flight Simulation Group. This will complement their existing simulation suite of a motion based MP521 and two desk top MP500-2's.
This latest addition to Swansea's simulation suite will be on a six axis electric motion system.
The entire Swansea University Merlin Based flight simulation suite will be upgraded to the latest Diamond Visionics Genesis visual graphics, and the new MP521 will have the Merlin S'Fun Matlab interface software.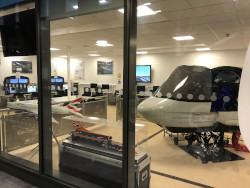 Swansea University order new MP521 simulator