The University of Manchester win 'virtual' IT FLIES USA
Merlin held a 'virtual' IT FLIES USA competition this year at The School of Engineering at the University of Dayton. It was the tenth year that this event has been held at UD, and run from their flight simulation laboratory via Zoom.
The winner - Hanif Shakiba from The University of Manchester with his design of a single engine sub-sonic, high wing, early 1950's jet fighter-bomber for the USAF.
The team of Jacob Montgomery and Calvin Callahan from The University of Dayton were the runners up.
Best project presentation prize was won by Mississippi State University.
Test pilot Gary Konnert, one of the flying judges commented 'the students did an outstanding job of design given the limitations this year'.
More details on the IT FLIES competition page.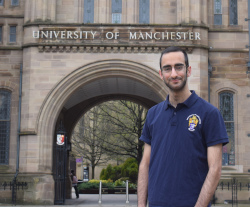 Hanif Shakiba - The University of Manchester