Merlin install MP521 simulator
Merlin have recently installed an MP521 simulator on a six axis electric motion system plus a MP500-1 into The Department of Aerospace within the Faculty of Science and Engineering at Swansea University.
Dr. Ben Evans, Head of Aerospace said:-
"We are delighted to have received our new six axis motion simulator from Merlin which, along with the additional desktop simulator, doubles the capacity of our flight simulation lab at Swansea University. This will be a fantastic benefit to all of our Aerospace students at Swansea for whom access to the Merlin flight simulator suite is a critical part of their learning experience. We have been working with Chris and the team at Merlin for many years and we are always impressed with level of technical support that Merlin provide. We are also excited to be hosting the Merlin IT FLIES competition in 2023 and welcoming student teams from across the globe to use our state-of-the-art facility at Swansea."
Swansea also purchased an MP500-1, bringing their total to five simulators in the lab.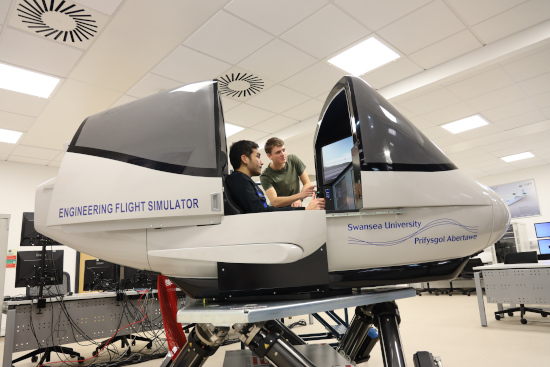 Photograph Swansea University