Team from The University of Manchester win IT FLIES UK!!
A team of three students, Thomas Moissinac, Yufei Jin, and Anita Gea, who designed a blended wing body commercial aircraft won First Prize in a tightly fought competition. The team won £800 from Merlin Products and the Harrier Trophy.
This year's Event held at Swansea University's new Bay Campus saw entries at full capacity and of very high quality - drawing praise from the two Flying Judges, Dave Southwood and Gordon McClymont.
Second place tied went to Ollie Jones from Sheffield Hallam University with a replica of a Red Bull racer, and Cian Hanley and Matthew Hogg with their small to medium sized utility helicopter - being the first rotary wing design to enter IT FLIES UK.
Best Project Presentation Prize went to Rob Ives from Teesside University - winning £250 from IHS/ESDU.
The Prize for the Most Innovative Design was a tie between Swansea University's team led by Jacob Johnson for their short haul regional aircraft designed to utilize partial electric power to aid in fuel reduction mainly during the climb out phase of flight and The University of South Wales team with their very large aircraft design modelled on the A380 featuring a PrandtlPlane configuration.
Great teams with enthusiastic aero students this year!!
Our many thanks to our judges, Dave Southwood and Gordon McClymont from The Empire Test Pilots School, Dr. David Philpott from IHS/ESDU, and Barry Swainston from the Flight Simulation Group of The Royal Aeronautical Society.
Also thanks to all the staff at Swansea University for their fantastic organization and hospitality, to the Flight Simulation Group for sponsoring a delicious lunch, and to Mick Oakey of The Aviation Historian for donating many copies for the winning teams.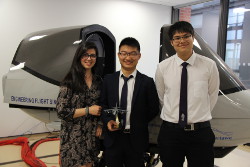 Winning Manchester students. Photo credit: Swansea University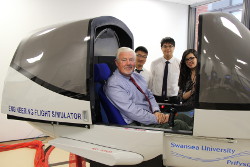 Gordon McClymont - Test Pilot, with the winning team from The University of Manchester. Photo credit: Swansea University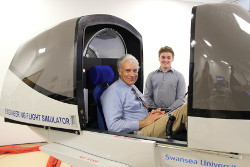 Dave Southwood - Test Pilot, with Ollie Jones from Sheffield Hallam University. Photo credit: Swansea University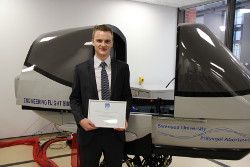 Rob Ives from Teeside University, winner of best presentation. Photo credit: Swansea University