A Manchester Team triumph again!
Arvydas Cetryrokovskis and Johannes Verzijl won this year's competition with their design of a 2 seat aviation aircraft.
Second were Swansea University's Ghostrider UAV team, Lawrence Holness, David Glasby, Neil Fraser and Alex Aylett, and..
Third was Yuwei Luo from The University of Hertfordshire with her 'Skyline' aerobatic aircraft
Best Technical Information Prize went to Kyle Koester from The University of Dayton for his STOL agricultural aircraft.
The prize for the Best New Aircraft Design was won by Swansea University's Reyno Faber and Stephen Measures.
Especial thanks has to go to our flying judges, Dave Southwood and Gordon McClymont from The Empire Test Pilots School, to our presentation judges, Dr. David Philpott and Mr. Barry Swainston, and to all our sponsors, IHS, AOPA, TWI Technology Centre Wales, Mick Oakey from The Aviation Historian, and the Flight Simulation Group of The Royal Aeronautical Society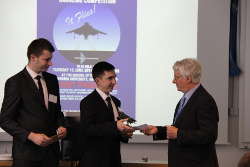 Chris Neal presenting the first prize to the winning team from MU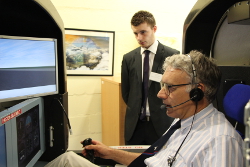 Dave Southwood with one of the winning Manchester team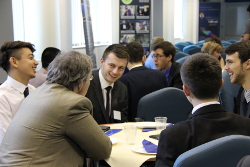 Lunchtime!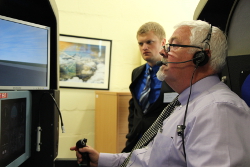 Gordon McClymont with Mike Pratt from UD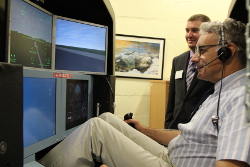 Dave Southwood with Garrett Gleason from UD