Manchester team heads up IT Flies UK 2012
A brilliant team of three second year students from The University of Manchester, Ramy Mesalam, Abdullah Desai and Stuart Garthwaite won IT FLIES 2012 run by Merlin Flight Simulation Group, and held at Coventry University's Aerospace Laboratory on 12 June.
Their super design of a very lightweight training aircraft was flown and assessed by Graham Archer, Cobham plc's Chief Test Pilot in Coventry's MP521 Engineering Flight Simulator. Graham commented 'I enjoyed flying the Manchester trainer aircraft and thought it accurately replicated how I would expect an aircraft of this class to fly. The aircraft showed conventional stability around all 3 axes and controllability was adequate for the tasks attempted. The performance of the aircraft also appeared to be close to other trainer aircraft which showed that both thrust and drag had been accurately modelled. Overall, a very convincing simulation and well done to all of the Manchester team.'
IT FLIES 2012 had eight entries, and a wide variety of aircraft designs entered, ranging from a Bugatti and a Blackbird from Coventry University, to an Airship from Swansea. Thomas Roger's design, the Airship, was flown by Dave Southwood, fixed wing tutor at The Empire Test Pilots School. This flew very well and came third, Thomas also gained first prize for his project presentation.
It was the first time that any university had used the new Merlin aerostat flight software. Dave Southwood commented:-
'I had no prior knowledge of how to fly an airship, especially a hybrid such as the one modelled by Thomas Rogers, but given his notes and guidance I quickly developed a control strategy that allowed me to fly successful vertical and rolling take-offs, manoeuvre it at zero airspeed and with forward speeds, and to land it. I discovered subsequently that the landing technique that I developed is the one that is actually used for airships and therefore the model replicated the characteristics of other airships extremely well. Overall, it flew like I expected it to and it was a very good simulation of a novel air vehicle that required some clever development of the Merlin simulator into new aspects of aviation. And I really enjoyed the opportunity to learn to fly a new type of flying machine.'
The results are as follows:-
First Prize:-
Manchester University - Ramy Mesalam, Abdullah Desai, Stuart Garthwaite - lightweight training aircraft won £800 and the Harrier Trophy from Merlin Flight Simulation Group
Second Prize:-
Coventry University - Virginija Januskaite - Casper 250 UAV, won £250 kindly sponsored by Messier-Bugatti-Dowty.
Third Prize:-
Swansea University - Thomas Rogers - Airship, won a copy of 'A View from the Hover' by John Farley.
The Prize for the Best Presentation:-
Swansea University's Thomas Rogers, won £250 kindly sponsored by IHS.
The Prize for the Best New Aircraft Design:-
Manchester University's team with their lightweight trainer won flying lessons kindly sponsored by AOPA.
The Prize for the Most Innovative Design:-
Swansea University, team Dragon won a copy of 'Spitfire, Britain's Finest Hour' by Nigel Cawthorne, kindly sponsored by John and Pam Godfrey.
Guests at this year's Competition included Dr. Aaron Altman and his wife from The University of Dayton, Ohio. All the students who competed in the Coventry competition have been invited to enter for the next IT FLIES USA - to be held at Dayton in April 2013. Teams from Coventry, Swansea and Manchester have expressed interest in competing in the US and staying on Dayton's campus.
Very many thanks to our sponsors this year, AOPA, Messier-Bugatti-Dowty, IHS, The Royal Aeronautical Society, and John and Pam Godfrey - without whom this competition could not have taken place.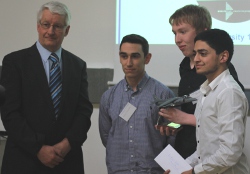 Chris Neal and the winners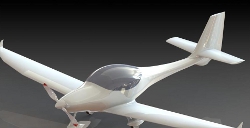 Winning Manchester entry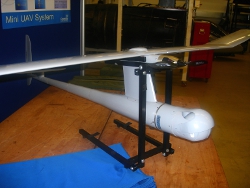 Coventry entry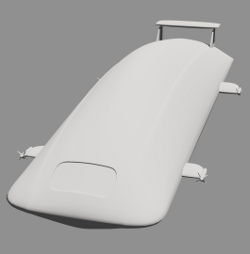 Swansea entry