COMPETITION 2009 RESULTS
First Prize:-
Coventry University
who won £1,000 donated by RAF Cranwell Engineering Liaison Team
The Harrier Trophy from Merlin Flight Simulation Group
A year's complimentary membership with the R.AeS.
Second Prize:-
Bristol University
who won £500 donated by MBDA
Third Prize:-
The University of Salford
who won £250 donated by Messier Dowty
Special Prizes:-
The University of Hertfordshire won the AOPA prize for the Best New Aircraft Design
Bristol University won the IHS prize for the Best Technical Information
The University of Leeds won the AAU prize for the Most Innovative Design plus copies of John Farley's book 'A View From the Hover'.
Swansea University won a visit to and flight in a Thales full flight simulator
Bristol University won copies of the Royal Navy's book '100 Years of Naval Aviation'.
Swansea University won a 20 min. flight in a Boeing Stearman from Touchdown Engineering
Coventry University won a year's subscription to Todays Pilot magazine.
Special thanks to all our sponsors:- RAF Cranwell Engineering Liaison Team, MBDA, Messier Dowty, AOPA, HIS, AAU, Thales, ETPS, The Royal Navy, Touchdown Engineering, and Key Publishing - without whom the Competition could not have taken place.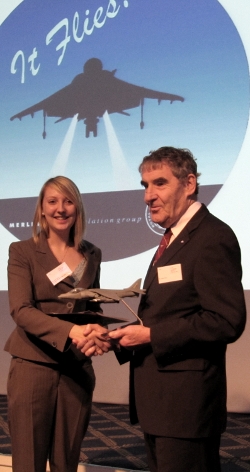 Charlotte Collins