2008 Winners - Swansea University
The winners in 2008 were Swansea University with their model of a turboprop aircraft.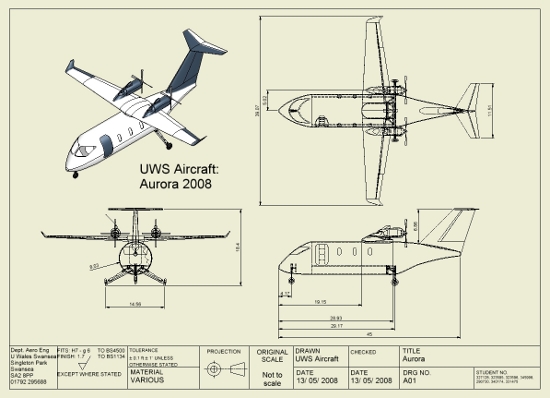 Computer generated image of the winning design.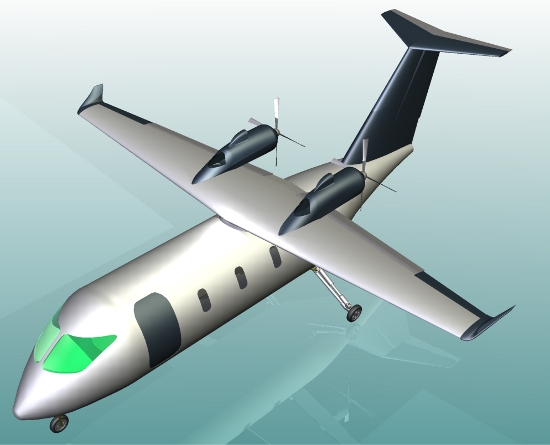 COMPETITION 2008, WAS HELD ON FRIDAY 13 JUNE IN CONJUNCTION WITH THE FLIGHT SIMULATION GROUP OF THE ROYAL AERONAUTICAL SOCIETY
First Prize:-
Swansea University
who won £1,000 donated by the RAF Directorate of Recruiting
The Harrier Trophy from Merlin Flight Simulation Group
A year's membership of the Royal Aeronautical Society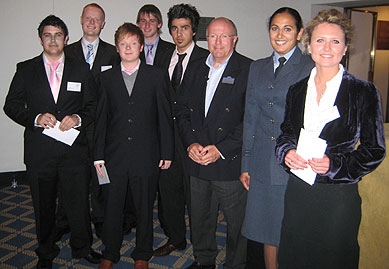 Second Prize:-
The University of Salford
who won £500 donated by Messier Dowty
Third Prize:-
The University of Manchester
who won £300 donated by Goshawk Aerospace
Special Prizes:-
Swansea University won the AOPA price for the best new Aircraft Design
Kingston University won ESDU's prize of £250 for the entry with the best Technical Information
The University of Salford won the AAU prize of £200 for the Most Innovative Design
The University of Bath won a flight in a Boeing Stearman donated by Touchdown Engineering
The University of Salford won the Todays Pilot prize for the best Individual Entry
Merlin would like to thank the sponsors of Competition 2008, RAF Cranwell, Messier Dowty, Goshawk Aerospace, MBDA, AOPA, ESDU, AAU, Touchdown Engineering, Todays Pilot Magazine, Thales, QinetiQ, and The Empire Test Pilots School, without whom the Event could not have taken place.